Bloggin' It

RECENT NEWS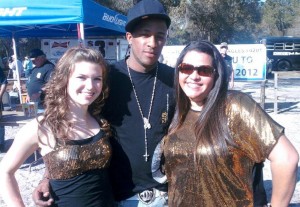 01/29/11- WOW!! What a GREAT SHOW!!! MAN!! We went back to back for NINE songs and although I was completely out of breath after it was done, it was all worth it! We had some sound issues also but we really maintained our composure and went on with the show!  What a great response from everyone too!!! We booked a few more shows and I got to sign autographs for some new fans!! That was really incredible! Now we get a little break until April for our next performance!!! Stay tuned!

01/26/11-  This weekend is the Manatee Festival!! We are soooo excited to perform. I can't even WAIT!!! Come check us out at the Blue Springs Manatee Festival at Valentine Park in Orange City, FL. We are performing on Sunday at 3 p.m. YOU DON'T WANNA MISS IT!!!!
12/12/11- It's a good day and I'm feeeeeeeling goood!! What's up people?? I have been steady on this grind making new songs. I am seven tracks in to this third album. I just wrote another song tonight to a DeeCee The Beat Doc production and it is HOT! I can't wait to get back in the studio and finish three more completed songs that I have that are itching to get recorded. My goal is thirteen tracks for this album "Deltona's Finest". Hang in there with me people, I'm almost there!
11/20- AND that's one more song for the album done!! What an incredible journey this has been. I am so grateful for music!! So grateful for Ephdan, my main producer. I am so thankful for Frank Starchak, my sound engineer, vocal director, friend, and inspiration. Without music, I could not exist!! I can't wait for you all to hear this latest track!!!! More details soon!!
11/05- WOW!!!!!!!!!!!!! WHAT A SHOW!!!!!! IT WAS INCREDIBLE!!! EVERYTHING WAS PERFECT!! FROM THE BEGINNING TO THE END! GOD HAS TRULY BLESSED US!! THANK YOU SOO MUCH TO ALL WHO CAME AND ROCKED OUT WITH US!!! VIDEOS AND PICS TO COME!!!!!!!!!!!!!!!!!!!!!!
11/02- The time is coming nearer!! We are back in the studio tomorrow to record one last song before the Deland Music Festival on the 5th! Talk about trying to make it ALL happen!! Goodness! Friday, we are in full-on dress rehearsal, then Saturday is a photography session on location in Deland and then we are on at the festival at 6:30! I am already POOPED just thinking about it all!! But I am very excited! Mostly, I am excited because I am getting do what I love with people who are also getting to do what they love and enjoy! It's gonna be an awesome time and I can't wait for you all to meet Sa-Rah Star, JT, Carol, Crystal, and Ariel. It's gonna be off the chain!!!
10/28- Check out my New Song CRY INSIDE ft Sa-Rah Star!!! This song, Cry Inside, tells a story about two girls, with the same feelings, talking about the same thing-music. One tells the story from a saddened perspective, one that is doubtful, one that doesn't believe in herself and doesn't see how it will happen but still keeps going because the love of music is in her soul. The other tells the story from an frustrated perspective, one that questions why music is in her life if nothing is going to happen with it, something that consumes her every being, something that she cannot get rid of and is addicted to in the same way. It is powerful, it is incredible. It is Aissa Torres and Sa-Rah Star.
Recorded at Deltona Records with Frank Starchak Produced by Jayson LeeMasters of Epademik-Productions, Mastered by Gerry King of SkyLab Studios. Listen to it here!

10/25 – EPIC MOMENT In HISTORY for me today!!! My music was played on an internet radio station called "Ripped Radio Network"!!!! Just hearing my music on air like that LIVE was INCREDIBLE!!! My heart never raced so much! What an incredible, monumental, moment in my life and that of my producers as well. I still can't believe it!!
10/20- The song was completed tonight!! this makes 5 songs completed for this third album! I can't believe how awesome this is coming along. Tonight in the studio was such an incredible night, just a musical journey that ended up with an incredible song. Once it is mastered by my man Gerry King, it will be ready for your listening ears!!!
10/07- Well, last night was a laaaaaaaaaaaaaaaaaaaaaaaate night session in the studio.  I didn't get home until almost 2 in the morning. I'm exhausted but excited because the track sounds really good. This was produced by Jayson LeeMasters of Epademik-Productions. I had my homegirl Sarah aka Baby Talent lace the track with me with her incredible rap. It was awesome!! After last night, I was convinced we had to do more tracks together and we will make that happen.  Once the song is finalized, I will let you all hear it!!
10/03- Good things coming! I'm back in the studio this Thursday to record an Epademik-Productions track. I can't wait!! It's definitely going to be a really deep and thought provoking song! I got two lovely ladies who will be collaborating on the track with me. Cannot WAIT to see Frank in the studio!!
09/27- Well, the wait is over!! Here is the link to my latest track "I Wish It Didn't Have to Be Like This" ft J.T.!!! This track was produced by Eddy G! IT sounds INCREDIBLE!! CHECK IT OUT NOW!
I Wish It Didn\'t Have to Be Like This by Aissa Torres ft. J.T.
09/25- Believing in yourself when no one else does takes courage. Going after your dreams when there are so many obstacles takes perseverance. Having faith to see what those with eyes cannot takes wisdom. We are all called to be something amazing on this earth. Each one of us. What we do with our time here is up to us. Wouldn't you want to make it magical? Wouldn't you want to have the courage to go after something that you can only imagine in your dreams and make it a reality? Our lives are short, but what we do with our time here can make our lives and those around us so profound, so incredible, so life-changing. What are you called to be? Whatever it is, just know that if you believe in yourself, have the courage to try, and have the faith to know you can do it, your world will be completely changed and it will not be for the worst. The feeling you get inside of you when you see the effects of perseverance and determination against all the odds makes you feel like anything is possible, like you are a bird who has just learned to fly. Whether you are called to be an artist, a musician, a writer, a priest, a mother, a father, lawyer or doctor, make sure you do it with everything you have inside of you because the rewards of your efforts will be so great when done with a loving heart, courageous spirit, and an everlasting faith in yourself and in God. God has given us all the tools necessary to build the lives that we want. How will you use the tools He has given you today?
09/14-  The wait is OVER!! Here is the link to RIDICULOUS!
09/07- People, people, PEOPLE!! The latest track done last night into the weeeeee hours of the morning is complete!! IT is CRAZY RIDICULOUS how awesome it sounds. We are not so sure WHAT genre of music this is! It's pop, rap, dance, all in one. All I know is when you hear it, you will go nuts just as we did last night! I am preparing the video of the behind the scenes making of this song and will release the track on iTunes and Amazon MP3 as a HOT SINGLE!!! Will keep you posted as soon as this happens!!!
09/06- I will be up in the studio tomorrow with Frank Starchak recording a new song produced by Ephdan!! I cannot WAIT until you all hear it!!! It's RIDICULOUS!!
08/31- Big things are coming. Will keep you all posted!!!!!!!!!!!!!!!!!
08/24- There is something to be said about perseverance. Without it, a lot of people wouldn't have had the successes they have today, nor the impact that many have had in our world. A dream can be just a dream if you don't pursue it. Or your dream can become reality if you do. There are going to be many obstacles in the way of your dream. Sometimes you might just want to give up because it gets too hard or no one is supporting you or believes in you. Each day, I wake up and try to make my dream a reality. The obstacles are endless. However, all of the negativity gives me the encouragement, the determination, and the strong belief in myself to embrace the talent that God gave me and to make it happen. Perfection does not exist here on this earth. But belief in one's self is priceless and necessary if you wish to succeed. I want to thank you for your support in my journey as a recording artist and I encourage you strongly to keep going after your own dream in life. Your dream could shape the world. Your dream can make a change. Stay ever faithful in God, and have faith in yourself. The possibilities are endless when one believes!!!
08/22- WOW!!! The show last night was OFF THE CHAIN!!!! What an exciting night! And to be surrounded by so many talented artists, well, that was just a blessing! We had such a blast and look forward to gracing the stage with our presence many times over in the future! Special thanks goes out to Sarah and Crystal. These girls did it UP with me on stage and because of them, the show was HOT!!! I love MY GIRLS!!! Videos will be posted soon on youtube so stay tuned!! Here's a pic of last night's show with me and my girls!
08/20- Tomorrow is the day!!!!! I am so excited and cannot WAIT to show off my amazing dancers, Sarah and Crystal, and TEAR UP the STAGE!!!
08/19- Woo hoo!!! One of the most critical and amazing things has happened in my life today!!! I am the Featured Artist in the "IN THE SPOTLIGHT" article in the Daytona Beach News Journal!!!! This is so exciting for me!! On my way to work this morning, I stopped off at the Kangaroo gas station, ran inside, and started looking through the paper vigorously and with much excitement! The poor store worker was like "what is going on, are you in the paper or something?" and I was like "YES, YES I AM!" and then I found it and screamed, jumped up and down, cried, everything. Then I bought four copies and called up my friend Ja'Vion and left him a voicemail screaming and crying into the phone that I was so happy and that I thanked him from the bottom of my heart for helping to make this happen. Him and Catherine Thomson are amazing people. They are also the people behind the "EASY SPEAK" Artist Series that I am performing at on Sunday! This has been such an incredible day for me and one that I will not soon forget. To see the article, check it out here!!
08/17- I NEED to give a special shot out to my producer DEE CEE THE BEAT DOC for making the track for my latest hit song "HOLD YOUR HEAD UP HIGH"!!! This track is incredible! It sounds so good!!!! Dee Cee is an amazing producer and track master! The song was recorded at Deltona Records with Frank Starchak of course and it was mastered by Gerry King of Skylab Studios. All these men in my life are helping me to realize this dream of mine and I am so grateful for their involvement in my dream. To hear the song, check it out here!!
08/15- The Easy Speak Artist Showcase is this Sunday, August 21 at 7:00 p.m. at the Peggy Schnebly Recreation Center in Daytona Beach, FL. I am headlining the show and feel so honored to do so!! We are expecting a great audience. For more information, please send an email to easyspeak2010@gmail.com
08/03- You know, not everyone is going to like what you got to say, especially when it comes to music. Everyone has their own taste and opinion when it comes to that. I hear my music, and I can be critical about it, knowing what sounds good and what doesn't, knowing where something could be improved and when it sounds awesome. I think I am my own biggest critic. I always ask people for their honest opinions when listening/reviewing my songs. It's important to get honest feedback because these are the people who will potentially be your fans and buy your music. No matter what, the drive and ambition is still there and even if it doesn't happen, I am still going to make music. I can't stop.
08/02- Remaining positive amidst chaos and confusion is really hard to do but demonstrates your class and character in times of adversity.
07/28- WASSUP PEOPLE! I have some good news!! I have a new track that I recorded called "DREAMS" that was produced by my awesome beatmaker/producer and friend, EPHDAN. His beats are incredible!!! You gotta check it out!!! CLICK HERE TO LISTEN TO DREAMS!
07/21- I am so in love with music. It is my boo. I can't go anywhere or do anything without thinking about it! I have four really incredible producers that are working with me on my third album. Fiya Boi, Jayson LeeMasters of Epademik Productions, Dee Cee da Beat Doc Darryl Clark, and Ephdan Ephrem Daniel. These guys are so amazing at making hits and it is my sheer joy to put lyrics to their tracks. I know I just released my second album but a true songwriter is always at work so this next album is going to be on FIRE!!!! Praying still everyday for this dream to come true. Hoping you are with me and pray as well!!!
07/14- IT IS SO AWESOME having FANS!!!!!!!!!!!!!!!!!!!!! I got a new song coming and it is going to blow EVERYBODY AWAY!!!! As each day goes on, it is one day closer to this dream! I WON'T GIVE UP! And I want to especially send a shout out to the girls at ACA Gymnastics in Lake Helen who LOVE my music!!!
07/11- Let me tell you all something. Let me tell you all SOMETHING! This dream I've been having, it's about to be realized. It's about to be life imitating dreams!! My calling is here and I am answering!!!!!!!!
07/02- Well, the Orange City Fireworks Extravaganza at Valentine Park was AWESOME!!! If you came out to see it, thank you sooooooooooo much!!! I had a great show with my man JR Bartee "SUPAMAN" on the stage with me getting everybody amped! We had such a great time!! Video will be coming soon! Plus I had to sing the National Anthem right after I sang FIVE Songs so that was a little rough. I didn't forget the words though!!
06/28- Goodness Gracious Great Balls of FIRE! LOL! I'm soooo excited to announce that I will be performing a show at the Orange City Fireworks Extravaganza in Valentine Park from 5:30-6:00 p.m. on Saturday, July 2nd!! This is an exciting opportunity that I have been presented with and I cannot wait to entertain Orange City and the surrounding areas making sure I represent Deltona to the MAX!!
06/27- WOW! What a show!!!! The Easy Speak Artist Series was a huge success! Much Love and Respect goes out to Ja'Vion Mcvadian and Catherine Thompson for organizing this amazing event. Great fashion show, live entertainment, and yours truly, Aissa Torres,"Deltona's Finest", was up in the house repping for Deltona and putting it on the MAP! Good times had by all. Stay tuned for video and pics from the event!
06/23- Things are really COOKIN for me musically. I believe that I may have a deal soon. Waiting to hear from an amazing rep who has been in the business for a long time. God, can you hear me? I want this more than anything. You know I have had this dream for so long. If it is in Your will, please let it happen.  Amen!
06/16- Hey!! Check out my FIRST PRESS RELEASE!!!
06/05- I will be getting the tickets on Tuesday for the Artist Showcase at Easyspeak in Daytona on June 26th. Tickets are $5.00 for entrance, $10.00 for entrance and dinner, $20.00 for entrance, dinner, and VIP service! Please contact me at aissatorres@hotmail.com if you would like some!
05/31- Wassup people?! Each day I live and breathe is a day closer to my dreams!!
05/28- Sooo SOOO happy how sales are going for my latest album!! It is incredible to me how people are really feeling the music! It gets me so crazy with happiness!! I have so much on my mind, first I just want to say that I am going to be performing in an Artist's Showcase on June 26th, 2011 at 7 p.m. in Daytona at a venue called "Easy Speak". I am VERY excited to be one of the performers there. I anticipate a lot of people coming out to support me as well as the awesome talent that will be there. You know, I absolutely LIVE for the stage. I love to be on there. It's like my "home". I will be performing two tracks from my album and I am hoping it will be a performance that is well received by the audience.  More details on tickets and prices soon!!
05/25- I keep posting videos of my songs on youtube. While they are not exactly "music videos", they are slideshows with my music on them. Check them out! I keep adding more videos almost every day! In addition, album sales have been really going well! I really appreciate your support!!! A musician/artist is nothing without their FANS!
05/10- I  received my CDs today!! I can't wait to go home and open them up!! Making deliveries on Friday!!!
05/02- Wow it is MAY already! Can you believe it!? Time flies when you're having fun! I am anxiously awaiting my CDs. I cannot wait to get them and bless the people and fans in my life with them! Only a few more days until they are here!
04/30- Between homework, chores, laundry, and children, it's no wonder the day slips by and you are wishing for a repeat without all the responsibilities.
04/29- My CD's are officially on the WAY. So many people have requested them!! They will be arriving on May 10th. If you want, you can pre-order your copy by emailing me at aissatorres@hotmail.com
04/27- I am TOTALLY On ITunes!!!! Don't you see me jumping up and down!!!?? People keep asking me for a CD. I am working on this as we speak. It costs a lot of money to make a CD but I will do it for my fans!! Should be here within 2 weeks. Stay tuned!
04/26- After one day of going live with my sophomore album, I made a couple of sales already! How exciting! Especially the fact that I don't know who the people are who purchased my album!! I am very flattered and excited! A couple of people have asked me for actual CD's. The reason I didn't do CD's this time around is because when you are financing a project solo, it costs a lot of money for "extras". CD's are "Extras". I didn't have enough money to make the CD's at this point in time but when I do, which is all depending on album sales online, then I will be able to make the CD's available online and hopefully in stores!!
04/25- You know, I was just listening to the samples of my music on the cdbaby site. I'm just amazed at how amazing it sounds and how after so much long and hard work, it's finally here. I'm so proud of the way it came out and the way it sounds. Yep, it sounds real good. Real good.
04/23- Tonight, the show was a SCREAM! It was awesome! The talent that is in Deltona truly astounds me! Jen Stackpole was incredible! Her songwriting and beautiful voice are a pure pleasure to anyone's ears. God I love that girl! And Tim Piccirillo, he is the most awesome comedian, magician, and SINGER! I didn't know he could sing until last night! He blew me away! My family had a really great time. So did I. I really enjoyed singing for everyone and having it stream online live! That was so cool! Oh the best part? I totally did a Lady Gaga and fell off the stage while singing! However, I didn't fall, fall. It was more like a huge step down LOL!!! I kept going and the audience loved that! I was not embarrassed, more like Heck YEAH I kept going even though I fell off the stage! Who else could do that! Ha Ha Ha!!!
04/21/11 If you can't make it to the show on Saturday, you can watch it streaming LIVE on U-Stream! This show is going to be AWESOME! I will be singing three songs, two of which have been produced by the one and only, amazing beat master and producer Jayson LeeMasters of Epademik-Productions! Can't wait to see you all there!!
04/20/11 Oh it is a day of wonderfulness, isn't it? I have been asked to open for Jen Stackpole and Tim Piccirillo on Saturday, April 23rd at the Deltona Coffee House in Deltona, Florida. The show starts at 7 p.m. and I will be singing three songs! Come on down and have a great time with live entertainment and great coffee provided by the White Cup Coffee House! For more information, please visit: Deltona Arts and Historical Center Coffee House
04/19/11- This just in, my best friend since Second Grade- Amy Thomas, has just told me that she is engaged! I am thrilled for her and wish her all of the best for her new journey with her soon to be husband David! God Bless you both!